MAC Cosmetic Philippines HIV Education and San Lazaro Immersion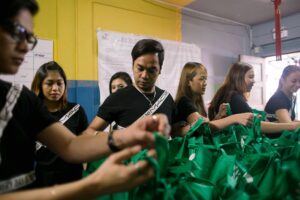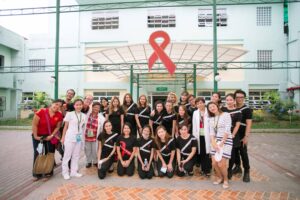 In celebration of World AIDS Day 2015 last December 1, employees of MAC Cosmetic Philippines underwent an HIV education at MAC's office at Buendia, Makati. "The basic HIV training was given to further enhance and update the knowledge of MAC employees on the HIV and AIDS situation in the Philippines," says Celestino Ramirez, Vice President and Training Director of Positive Action Foundation Philippines, Inc. (PAFPI).
"PAFPI and MAC AIDS Fund through MAC Cosmetic Philippines has been in partnership for five years since 2011. And we are happy that they are taking the proactive stance. They are not only funding our advocacy efforts and programs, which we are deeply grateful, but they are going out of their way to understand the HIV situation in the Philippines and meet the people living with HIV (PLHIV)," explain Ramirez.
According to Ramirez, 18 MAC officers and employees led by Miss Gay Lao Chen, Country Coordinator for MAC Cosmetics Philippines, and Samantha Lewis, MAC-WAD coordinator and HR Assistant together with PAFPI officer Ms. Rosemarie Barrientos, PAFPI-WAD coordinator, volunteers and staff joined the basic HIV training and capped off by a testimonial from Moses Ayuha.
"They are quite touched by the testimonial, especially on what Moses had gone through as a person living with HIV," Ramirez adds.
He shares that after the training, the 18 attendees from MAC, including Lao-Chen and Lewis went to San Lazaro Hospital (SLH) at the H4 ward for some gift giving. "The gift packs are a great help since many of the clients at SLH are tied financially," he says and further explains that many clients at SLH at have not yet disclosed their HIV status to their family, hence many lack financial and moral support.
Ramirez further shares that the MAC officers and employees are quite happy with the immersion and gift giving, "They directly saw that the clients really need their help and support."
"We are truly and deeply grateful to Miss Gay, Miss Samantha and the whole of MAC Cosmetic Philippines and MAC AIDS Fund (MAF). We could not properly put into words to say that your continued support to the advocacy and the plight of PLHIVs is significant in the lives of PLHIVs."
"PAFPI is very fortunate to enjoy the continuous support of MAC AIDS Fund (MAF). We are looking forward to many more years of MAF's continuous support to our advocacy." Ramirez adds that the next time consumers buy a MAC Viva Glam Lipstick, think that they are helping the HIV AIDS advocacy. 100% of the proceeds of the Viva Glam goes to the MAF.