PAFPI Holds Dissemination Forum 2016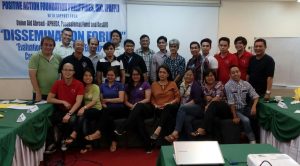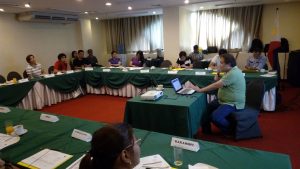 Last May 26, 2016, Dissemination Forum on "Evaluation of the HIV/AIDS Education and Counseling Services among OFWs" was held at Bay View Park Hotel, Ermita, Manila. This was funded by Union Aid Abroad- APHEDA, Pasasalamat Fund and AUSAid.
PAFPI capped the sixth year of the annual survey centering on about to leave and work overseas with a dissemination forum attended by representatives from different Manning Agencies , NGO's and CSO's and PDOS providers and Diagnostic clinics. Attendees are representatives from SeaPower Shipping Enterprises Inc., Kaibigan ng OCW's, TECHNOMAR Crew Management Corporation, Overseas Placement Association of the Philippines (OPAP), KAKAMMPI, Crew Care, AMOSUP, Sea Landers, DAMLAG Council, AIDS Society of the Philippines (ASP) and ACHIEVE Inc.. The Philippine National AIDS Council (PNAC) was also in attendance. The Program started with an invocation followed by a roll call of the participants for them to get to get acquainted with each other. A presentation followed entitled "HIV SITUATION" by Mr. Rench Chanlionco of the PNAC. Following the presentation, the participants were given the opportunity to ask pertinent questions. As the day proceeded, Dr. Rey Imperial from UP Manila-College of Arts and Sciences (CAS), the day's program host, introduced the next presenter, Prof. Laufred Hernandez for the highlight of the forum, "An Evaluation of the HIV and AIDS Education conducted by Positive Action Foundation Philippines, Inc".
The findings of the survey was discussed and after a short discussion on the topic, recommendations were given. After which lunch was served.
The afternoon schedule started with a brief introduction of PAFPI as an organization and followed by the Action Planning.
As the day was coming to its end, the Awarding of Plaques of Appreciation to PAFPI's new PDOS partners were awarded to: Damlag Council Inc., KAKAMMPI, and Kaibigan ng OCW's.
The forum was capped with a closing remark from the Admin-Finance Officer of PAFPI, Ms. Rosemarie Barrientos. Stressed and reiterated a unified effort to do more as beneficiaries of information have less retention of information, causing deliberate push towards exposing themselves to dangers of exposure and possibilities of acquiring infections.