PAFPI Home-based Care Training Workshop (HBC)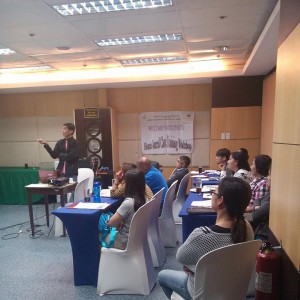 As the Bible says, "You shall love your neighbor as yourself." This passage from Galatians 5:14 clearly relates that one should love one another and this includes caring for one another especially during times of crisis or illness. But what if the person who suffers from an illness is a blood relative? An immediate family who needs your care and support? For sure, you will go out of your way to care for that person and give him the most possible comfort that you can afford.
It is for this reason why immediate family members or the affected families (AFs) of the people living with HIV and AIDS (PLWHA), in order for them to provide proper care and support, attended a series of Home-based Care and Training & Workshop.
This year, the workshop was conducted by the Positive Action Foundation Philippines, Incorporated (PAFPI) last March 14 to 15, 21 to 22, and April 25 to 26 in Baguio City, La Union and Pampanga respectively.
Through the support of partners and funding agency APHEDA, the series of trainings and workshops were participated by the affected families of PLWHAs.
During the two-day training and workshop, the participants learned the key provisions of RA 8504 or the Philippines AIDS Prevention and Control Act of 1998. PAFPI facilitators also discussed topics on the proper home-care, dos, don'ts and techniques.
According to Emil Garcia, Information Officer under APHEDA Project, the objectives of the two-day workshops as follows:
To know more about the situation of the HIV infected family member.
To capacitate the immediate family on how to properly care for their family member who is infected of HIV, especially during when the patient is recovering.
To encourage participants to apply their learnings on how to properly care for their family member who is infected with HIV.
"The participants learned what their loved ones who are infected with HIV are going through. The side effects of antiretroviral (ARV), how ARV affects their moods, and other things that an immediate family caring for a PLHWA should know and understand."
Garcia further explained that the participants also learned what food to give and what not to give especially during the treatment of ARV. "They learned how to use the thermometer, sphygmomanometer and stethoscope. They also learned when they need to bring the patient to the hospital."
"By gaining knowledge and understanding about HIV, AIDS and its treatment, it is only when affected families, husbands, wives, and children will be able to give proper home-care for PLHWAs."