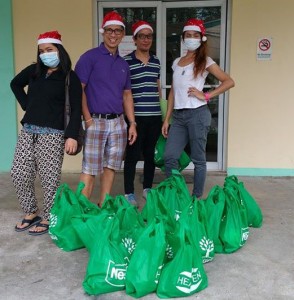 The holiday season is the time for love and sharing especially to those who needed it most. And this season, Positive Action Foundation Philippines, Inc. (PAFPI) through the support of MAC AIDS Fund conducted a gift giving activity to the patients confined in the H4 Ward at San Lazaro Hospital in Manila last December 15, 2014.
PAFPI's President Joshua Formentera, Ma. Cristina Culaste and other staff and volunteers of PAFPI brought holiday cheers to 19 patients currently confined in the H4 Ward. "These patients need our care and love especially this holiday season. Most of them are having a hard time coping up financially because being confined in a hospital due to different opportunistic infections is no walk in the park," Formentera shared.
As it was PAFPI's role and obligation to extend assistance to the people afflicted with HIV, Formentera and his staff distributed 19 grocery packs to 19 patients at H4. He said that many patients confined in the hospital badly needed support since most of them are not financially well-off to begin with. He also added that some of the patients are not even receiving support from their families while some opted to keep their condition a secret.
For more information about PAFPI, like and follow us on Facebook https://www.facebook.com/pafpi.org