Positive Action Foundation Philippines, Inc. (PAFPI) receives the support of MAC AIDS Fund (MAF) for seven years in a row. The funding cycle that runs from January to December 2017 will cover the needs of PAFPI's Manila and Davao projects for people living with HIV (PLHIVs) and their affected families.

Accordingly, the unwavering support of MAF will support the following Manila services and activities such as:
• Bahay Kanlungan Drop-in Center (BKDC). The drop-in center serves as a temporary shelter of PLHIVs and their affected families during their Anti-retroviral (ARV) trial period and other medications. The center also serves as a half-way house for those who were disowned by their families and those who are seeking a safe haven while they are trying to understand and accept their condition. The center also serves as a venue where PLHIVs converge and interact, which proves to be crucial in boosting their morale.
• Learning group sessions (LGS). Through the MAF funding, PAFPI has been able to continue a series of LGS that provide pertinent information about PLHIV Nutrition, basic HIV and AIDS education or HIV 101, ARV adherence, and other topics that would help empower PLHIVs and their affected families.
• Support Group meeting (SGM). PAFPI provides support group meetings to address different issues and concerns faced by PLHIVs and their affected families. In SGM, just like just LGS, questions were answered and concerns were addressed.
• Livelihood Training program. The funding also extends to providing livelihood training programs to PLHIVs. This will help empower them to continue living life despite the illness.
• Feeding and Healthy Plate Program. Most, if not all, PLHIVs and their affected families face financial burden, especially during hospitalization. Hence, many would just contend themselves to cheap food that are void of nutrition. But the MAF, PAPFI can continue its feeding at the San Lazaro Hospital (SLH) H4 Ward every Mondays and feeding in PAFPI's Bahay Kanlungan Drop-in Center every Fridays. And just like how very Pinoy household works, sharing a good meal together helps bond or foster relationships. Hence, Feeding and Healthy Plate Program also serves as a venue where PLHIVs and their affected families eat and laugh together.
• Enablers Fund for indigent PLHIVs. Since many PLHIVs don't have the financial capacity to support their medications and laboratories, the funding from MAF will help indigent PLHIVs with their needs.
• PhilHealth Enrollment for indigent PLHIVs. PAFPI through MAF also helps PLHIVs process and enroll them for PhilHealth coverage for one year.
• Psychosocial support. The funding is also used for one on one and peer counseling to provide psychosocial support.
• Referrals to partner agencies. PAFPI also process referrals to partners agencies like Department of Social Welfare and Development (DSWD) for Medical support, Educational support, livelihood, and even burial assistance.
• Referral for ARV medication at partner treatment hubs. PAFPI process the referrals of PLHIVs to various treatment hubs like Research Institute for Tropical Medicine (RITM), Philippine General Hospital (PGH), SLH, and many others. On some instances, PAFPI's staff and volunteers even accompany the clients to the said treatment hubs.
• Hospital outreach to PLHIVs. To further provide psychosocial support, PAFPI conducts a regular hospital outreach to PLHIVs in the different treatment hubs.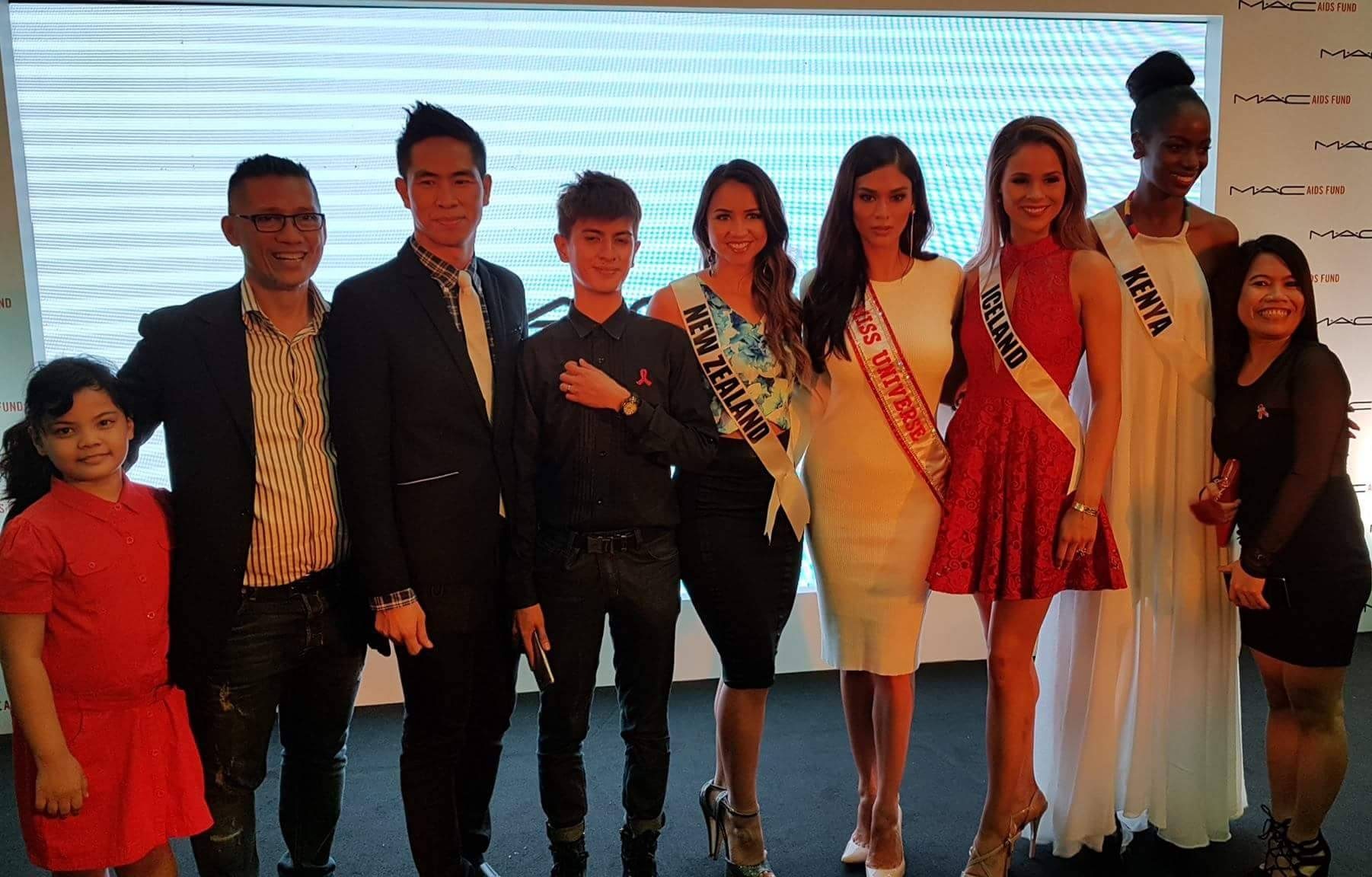 For Davao, MAF has been able to help provide for its nutritional support by providing PLHIVs nutritional supplements, regular LGS, and home and hospital visits.
More so, the awarding of the funds was received by Joshua Formentera, PAFPI's President and Rose Barrientos, PAFPI-MAF Project Officer. Gay Lao Chen, MAC's Country Coordinator awarded the grant last January 20, 2017 at S Maison Mall, Conrad Hotel, Pasay City. Miss Universe 2015 Pia Wurtzbach and other Miss Universe 2016 candidates also graced the event.
For questions, clarifications, or if you are seeking help, don't hesitate to call us at (632) 404-2911 / 567-3506 / 528-4531 or send us a message on Facebook https://www.facebook.com/pafpi.org/.