MAC Cosmetics through its MAC AIDS Fund celebrated World AIDS Day last December 2, 2013 at the posh shopping and lifestyle mall, Glorietta 3, Makati. But what makes the event more glamorous and exciting was the awarding of another fund for year 2014. Yes, it was a happy event indeed especially that Positive Action Foundation Philippines, Inc. (PAFPI) received PHP2,494,000 for its activities this coming year.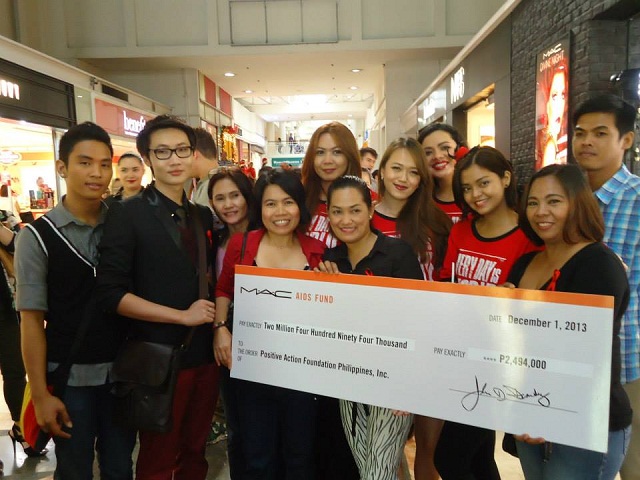 MAC supported the advocacies of PAFPI for four consecutive years, and as PAFPI's President Joshua F. Formentera puts it, "Working with MAC AIDS Fund was a blessing since our activities under the Glam for Life project continuously help lots of people living with HIV."
The event was also attended by different advocates, celebrities and MAC aficionados. It was indeed a glamorous event providing a free "lip-over" and an extension to PAFPI's Glam For Life project.
MAF's three years of partnership with PAFPI provided Filipinos living with HIV the chance to live a normal and productive life through the Bahay Kanlungan drop-in center. Adding another year, this will indeed support a series of activities intended to uplift the life of Filipinos living with HIV and their outlook in life.
Behind all the applause and cheers from the crowd, the hardworking and dedicated people from PAFPI showed their sincere thanks by parading around a huge smile on their faces and a literally huge cheque on their hands.