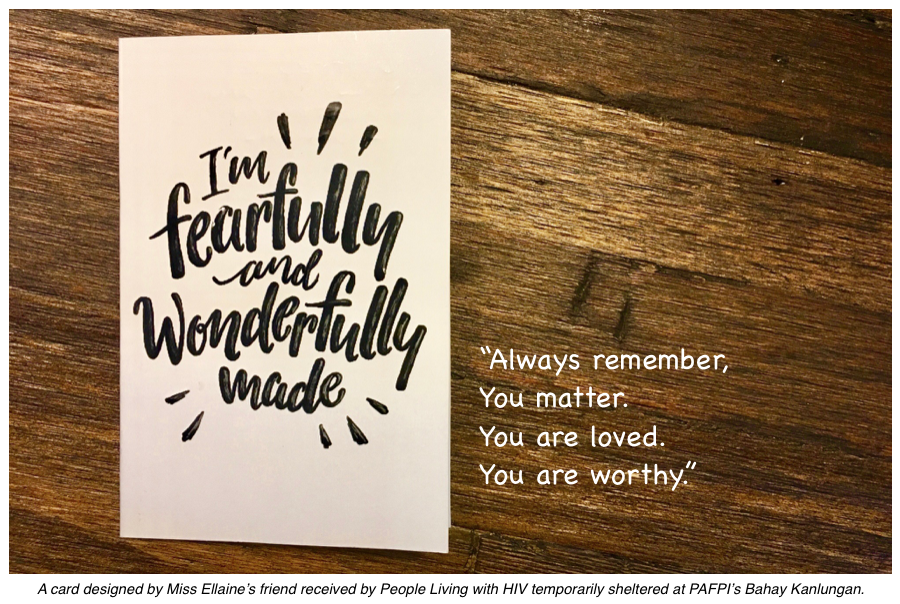 The Birth of a Wonderful Beginning
written by PAFPI Advocates.
Birthdays are celebrated in different ways and for different reasons. Some people recognize the years of development they went through as milestones in their journey to maturity. While others commemorate birthdays as a tradition to throw a party and rejoice their collection of memories through a celebration filled with home-cooked meals and attended by people who were a part of their life's strongest and weakest moments.
Miss Ellaine Alvina S. Chua, a clinic supervisor from Singapore Diagnostics clinic, was trained as an HIV Counselor by Positive Action Foundation Philippines, Inc. or PAFPI. She got her approval to provide Pre-Test and Post-Test HIV Counseling on August 9, 2019 after completing the training course on HIV Counseling to Testing (HCtT) and receiving her Department of Health approved certificate. To Miss Ellaine, celebrating her birthday for 2019 meant being inspired by people who are courageously living a life with HIV and using her faith to help them cross the challenges of life.

Miss Ellaine invited her close friends and peers from Victory Makati, a group of individuals with regular worship services with an aim to engage the community in honoring God through understanding 'why we do what we do,' to celebrate her birthday in PAFPI. They didn't mind being stranded in traffic, crossing the flooded streets of Manila and a few power interruptions to bring hope to people living with HIV currently residing in the organization's temporary shelter, Bahay Kanlungan, in Malate, Manila on August 24, 2019.

A part of a program they have prepared understands the struggles of people living with HIV by giving them enough time to share their experiences, getting to know them on a personal level aside from being infected with HIV and how they are striving hard to process their feelings to a better recovery. In reciprocating the stories they have heard, Miss Ellaines' friends blessed them with prayers and words of encouragement so they'll feel that they are not alone in their journey to a healthier path to fulfillment.
And as a customary tradition, Miss Ellaine's birthday is showered with smiles of gratitude and sustenance through melodies of laughter and food spiced with care – a Filipino's way of celebrating the birth of a wonderful beginning.
PAFPI's Bahay Kanlungan is funded by MAC AIDS FUND through grants received from the VIVA GLAM CAMPAIGN.